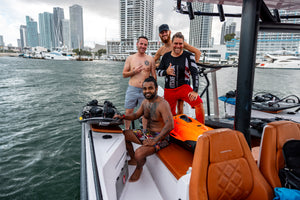 Frequently Asked Questions
What do you need to know?
EXPERIENCE
Everything you need to know about the Epic Ride Experience.
In a nutshell: it is the time of your life. It is two unforgettable hours on an amazing yacht with the world's best powered water toys. It's the #1 water experience in Miami. It's the best deal for your buck in Miami. So what's included in the package?'
Unlimited use of Fliteboard - the world's most popular electric hydrofoil
Unlimited use of JETSURF - the world's most popular motorized surfboard (both Fuel-Powered & Electric)
Unlimited use of Seabob - the world's most popular underwater scooter
Professional (but friendly) trainer
Refreshments (water,..)
Pick-up and drop-off at the Venetian Marina
Safety gear (Helmet, Life Jacket, Walkie-Talkie on your helmet)
Simply an unbeatable package. The most epic two hours you can experience on the water in Miami. Guaranteed.
Meeting 20 minutes before the lesson (9:40am)
At 10 AM the boat leaves from the Venetian Marina
15 minutes cruise to Marine Stadium. During this time our trainer will explain how to use all the toys
90 minutes Test Ride with toys of your choice
15 minutes ride back to the Marina
Absolutely not. The session is designed to make it is easy for people with no previous experience with jetboards, efoils, or underwater scooters. Of course, if you've ridden a similar toy before, it will be a piece of cake for you. If not, we will teach you. And if you get exhausted from too much fun on the water, you can always enjoy the time on the yacht and chill.
The weight limit for JETSURF and Fliteboard is 220 lbs / 100 kg.
There is no weight limit for the Seabob.
Riding the JETSURF board or Fliteboard for the first time is a little bit of a workout. Very thrilling workout. 
Riding the Seabob is very easy but your hands might get a little sore after a few hours.
Chilling on the yacht is definitely the least physically demanding activity that we can offer. But definitely worth it.
The whole Epic Ride Experience is designed for individuals or small groups. You can expect two to six people in the group on the boat.
If you would like to book a VIP private session, click here.
Swimsuit
Towel
Sunblock
Good mood
We will take care of the rest. And we will make it epic.
Your safety is our top priority. The boat captain and the trainer will instruct you on using the individual toys in a safe manner and they will be around the whole time to make sure it is a pleasant and safe experience.
We'll meet 20 minutes before the start of the session at the Venetian Marina - Suite A1 (JETSURF USA & EPIC RIDE Showroom. Drop-off is at the same location.
Please allow yourself enough time to find a parking spot and meet our team 20 minutes before the start of the lesson.
You can find a parking lot, next to the Venetian Marina for $15 - $40 a day (it depends on the day). You can also find a parking spot on the street or park in Publix located close by.
In case of being late, make sure you call us. Unfortunately, in case of a long delay, the boat can't wait for latecomers and you would lose your lesson without the right to get a refund. Please, make sure you are at the meeting point at least 20 minutes before the start of the lesson.
Unfortunately, the space on the yacht is limited and no spectators are allowed.
PRODUCTS
Everything you need to know about our products.
JETSURF is a motorized surfboard. It is a synonym for fun and thrill. It's the next best thing in watersports. JETSURF as a brand is a world leader in jetboards production. There are actually two types of JETSURF boards: fuel-powered and electric. You will have a chance to test out both. And both of them are spectacular!
The Fliteboard eFoil is a surfboard with an electric hydrofoil that extends below the board into the water and allows you to fly over water at a maximum speed of 28 MPH. No emissions, no noise and no wake, this board is fast and quiet.
The SEABOB is a high-end underwater scooter that could have appeared in movies such as James Bond. Halfway between a jet ski and an underwater scooter. Hang on to the two side handles and this futuristic scooter will allow you to multiply the sensations at the surface and underwater. No experience required.
Of course. We've got a full stock of brand-new toys in our Miami store. You can choose from multiple models of JETSURF boards, Fliteboard eFoils, underwater scooters Seabob and also OneWheels and JETSURF Skateboards.